Finders International was featured in a recent article in The Sun, highlighting our work and raising awareness of the thousands of unclaimed estates in England and Wales that people might not be aware of.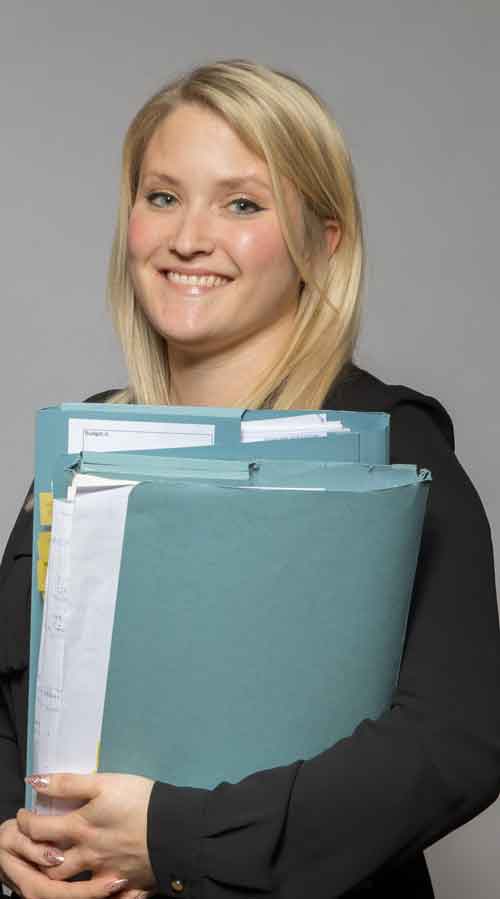 Finders' case manager Amy-Louise Moyes spoke to reporter Harriet Meyer about what she does. Amy-Louise's job is to track down the people who might be legally entitled to a share of an unclaimed estate.
Estates are often unclaimed because the person who died did not leave a will and appeared to have no next of kin. The deceased's cash and possessions are passed to the Crown, but it is in everyone's interests to reunite the estate with those who are the rightful beneficiaries.
Bona Vacantia
At present, there are about 6,774 unclaimed estates in England and Wales listed on the Government's Bona Vacantia website. After 30 years, unclaimed estates go to the Crown.
While the Bona Vacantia website does not list the value of an estate, it does have to be worth more than £500 to be listed.
You can search the list yourself and make a claim, but it is an expensive, time-consuming process as claimants need to prove their relationship to the deceased. They must have a family tree, with marriage and birth dates listed, and copies of certificates for each person between the claimant and the deceased.
Heir hunters
Heir hunters, such as Finders International, are experts at this work and will do it for a fee (a percentage of the estate) but it is worth bearing in mind that one claimant is unlikely to be the sole heir.
The majority of work referred to Finders International are from Solicitors. Amy-Louise then carries out the task of identifying and finding the heirs, using genealogical searches through records such as census returns, international documents and military records, etc.
Social media is also a valuable research tool and DNA evidence can also be used in evidence, with one case that Finders worked on resulting in exhumation of a body to prove a relationship, where the beneficiary inherited £1 million.
Finders International on TV
The BBC show Heir Hunters has Finders International as one of its main companies, and over the years Amy-Louise has featured regularly on the programme. She has worked at Finders for 14 years after having studied law at university.
For people who are entitled to an inheritance, they might receive a letter, or a phone call stating this and then be visited in person by a company representative. In general, heir hunters charge about 10-25 percent of the inheritance. For complex cases, though, the fees may be higher.
Complex cases might involve large families, for instance. For example, in the case of a West Country couple who died without leaving a will, there were some 100 beneficiaries and the monies received ranged from £6.95 to £6,000.
Life-changing inheritances
But inheritances can be life-changing. In one case that Amy-Louise worked on, a disabled woman inherited £650,000 from a relative she had never met. The money was used to pay off her mortgage, adapt her house and holidays.
There are other values to the process too, as Finders International often uncovers items that can be reunited with families, ranging from war medals to family bibles. A small vase was once found that turned out to be worth £20,000.
Potential beneficiaries are not obliged to stick with the company that approaches them and can even ask another firm if they would be willing to take up the case.
Beware of scammers
The Sun article sounded a warning note – beware of scammers. Over the past few years, there's been a rise in the number of people attempting inheritance fraud. Scammers pose as heir hunters to access people's personal information.
You can carry out your own due diligence by checking if an individual or company is legitimate through council Trading Standards offices, Companies House, the Association of Professional Genealogists or the International Association of Professional Probate Researchers.
While heir hunting is not officially regulated, the Association of Professional Genealogists and the International Association of Professional Probate Researchers have codes of ethics and standards. Any company or individual signed up to these is obliged to follow them.
No upfront fees
The general advice is to be wary of people charging an upfront fee.
Scotland has different rules on unclaimed estates. The Queen's and Lord Treasurer's Remembrancer website has more information about this. See qltr.gov.uk. In Northern Ireland, call the Crown Solicitor's Office on 028 9054 6037.
What about unclaimed money lying in forgotten bank accounts, savings and pensions? Many people lose track of where they have stashed cash, particularly if they have moved home or changed employers several times.
Unclaimed money
There is about £50 million in unclaimed money in the UK. If you know the bank or building society, you can approach them directly. But there are also other ways to find forgotten accounts.
They include searching for outstanding NS&I Premium Bond prizes online using the prize checker at https://nsandi.com or https://mylostaccount.org.uk for other accounts. The Government has a free Pension Tracing Service that gives the contact details people need to start searching for old pensions, though this does not include the value or whether you have money in one.
Finders International also has an international assets service that provides consultative and practical support to private client, wills and probate practitioners and estate administrators with the liquidation, disposal and return of assets located overseas, such as holiday homes, shares, bank and investment accounts.
If you have an questions about this article or our services, contact us today via our website, email [email protected] or call us on freephone 0800 085 8796.