Finders International is now an approved supplier for the Law Society of Scotland—the first and only probate genealogy firm to receive this status.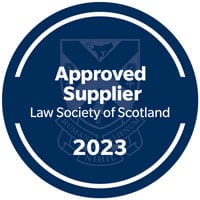 The Law Society of Scotland is the professional body for solicitors in Scotland. It was established by the Legal Aid and Solicitors (Scotland) Act 1949 and is responsible for regulating and representing the interests of solicitors in the country.
The main functions of the Law Society of Scotland include:
Regulation of the industry
Regulation: it sets and enforces standards for entry into the legal profession, professional conduct, and continuing professional development for solicitors. This ensures that solicitors maintain the highest standards of competence and ethics.
Professional Support: The society provides support and guidance to its members, including access to resources, practice advice and training opportunities.
Representation: The Law Society of Scotland represents the interests of solicitors at various levels, including engaging with the Scottish Government, other legal organisations and international bodies.
Public Interest: it also promotes access to justice, law reform, and the advancement of the legal profession's contribution to society.
Finding next of kin
As an approved supplier to the Law Society of Scotland, solicitor firms will know they can rely on our services should they require assistance finding next of kin, locating missing documents, applying for missing will indemnity insurance and more.
Danny Curran, CEO and founder of Finders International, said: "We're delighted to have been appointed as an approved supplier for the Law Society of Scotland. The society, quite rightly, holds its members to account and ensures they maintain high standards, delivering quality services to institutions, public and private bodies, and members of the public.
"Being able to say that we are an approved supplier to such an esteemed body is a great honour, and it will help reassure our clients that this approval, along with the many other accreditations and awards we have, is proof that any dealings they have with us will be handled professionally, efficiently and ethically."
Finders International will be exhibiting at the Law Society's Annual Conference 2023, which takes place in-person on 12 October at the Edinburgh International Conference Centre.
Want to speak to us about our services? Contact us at [email protected].