Coroner referral – March 2015 – we found a Will, but Next of kin were ultimately entitled
We were referred this case by a Coroner's Office who had known that the Deceased was a widow, but had no information about relatives. They were told by a friend that there was a Will, however the Deceased was a hoarder and an initial search did not reveal a copy in the property.
Although there was a risk that the family we contacted wouldn't ultimately be entitled, we had to proceed on the presumption that the estate was insolvent in order to find someone entitled to deal with the funeral and undertake a search of the property. The family were found and within a couple of weeks the solicitors were instructed and in touch with the coroner. As the family were cousins once removed, they didn't want to deal with the funeral themselves. Instead they instructed one of our panel firm solicitors to deal with the funeral on their behalf. As our panel firms agree to write off costs if the estate is insolvent or a Will is found, we were able to reassure the beneficiaries that they wouldn't be liable for funeral costs if it turned out that they were not entitled.
Because of the rumour of a Will, we asked the solicitors to take particular care when searching the property and also undertook our own Will Search and early on in the administration a Will was found.
However, when we looked into this further, we found that the sole beneficiary had pre-deceased and so the estate reverted back to an Intestacy after all.
We are often referred cases where the deceased person is a hoarder and this can cause problems for the Local Authorities when they try to determine whether there is a Will or next of kin, as the property may be difficult or unsafe to search.
In this case, lengthy investigations were needed to locate every beneficiary involved, however, we were able to send an interim report to the solicitors within a few weeks of the referral, so that they could proceed with the funeral arrangements and administering the estate. This also means that they could immediately search the property for important documents and then clear, secure and sell the house, so that it didn't become a focus of anti-social behaviour or an environmental hazard.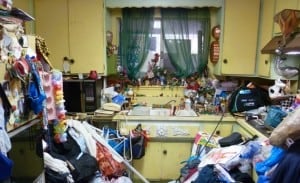 This case took us to France, Australia and America. The Australian and French beneficiaries were relatively easy to locate, and while we managed to find beneficiaries in America early on, they refused to respond to us despite contacting them via letter, phone, email and social media.
In the end, we arranged for a local agent to visit them, in order to confirm their details. This personal touch was what was needed to reassure them that it was a genuine matter.