Exeter City Council – September 2013 – Cash & gold found in a flat – BBC news covered story
 The Situation
In September 2013, it was reported by the BBC, that two Exeter City Council workers had discovered gold jewellery and more than £60,000 in cash while clearing a dead woman's house. They were praised for handing it in and it was said that the council was attempting to trace the deceased's next of kin.
---
 The Solution
Finders heard about the situation and got in touch with Exeter City Council, offering its services. The council had been about to ask the Treasury Solicitor to help them, but chose to use Finders, as they were able to offer a direct, fast solution and it is free for councils.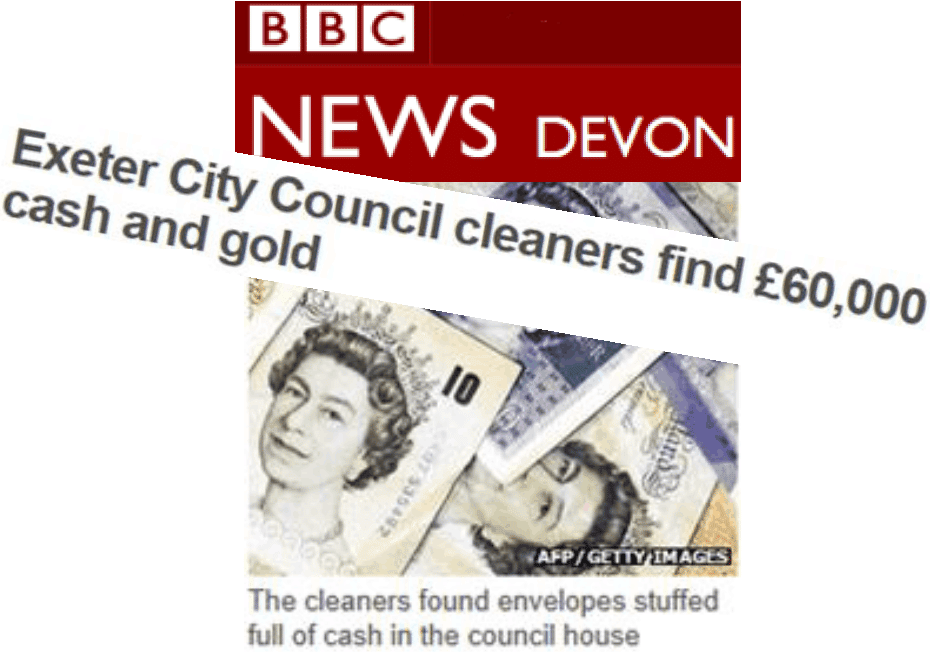 The case was passed to Finders Case Officer, Ryan Gregory, who explained the process in detail to the Council.
[su_quote]"Finders carried out a search to find the Deceased's sister that we wouldn't have had the time, money or facility to do and had very little information on." says Sally Kinver-Wrigley in the Housing Department; "Ryan contacted me within a week to let me know that a next of kin had been found and that their instructed solicitor would contact us."[/su_quote]
Once the solicitor had contacted the Council, it was able to start the process of transferring the money and belongings to them, enabling the solicitor to wind up the estate and arrange to pay any outstanding council costs.
---
 Customer quote
Overall, this is a useful service that can save us a lot of money, we would certainly use Finders again. The experience was good and we had the result we wanted which was for the money and goods to go to the right person and for someone to take responsibility for the tenancy. – Sally
---
 About Finders International
Finders was established by Managing Director, Daniel Curran in 1997. Finders are an international probate genealogy firm who pride themselves on providing a fast, friendly, and efficient service.
Finders UK based team is now over 70 strong and it provides services across the UK and globally. Last year alone it traced heirs and next of kin for over 900 estates. Finders are also pleased to announce that it has been chosen by the BBC for their new Heir Hunters series which airs in 2014. Finders would welcome the opportunity to meet with you to talk you through the process in more detail.
Call today to book your appointment on Freephone 0800 085 8796 or email [email protected].