Family Fortunes
Heir Hunters
Features on BBC One
Matthew Gordon, Executive producer of Heir Hunters, is in no doubt as to why the show continues to be so popular as it returns for its 10th series. It's down to its mix of social history and connection with ordinary lives.
"War stories, tragic deaths, tough jobs, unknown family members, most people have some of that in their family background, whether they know about it or would like to find out," Matthew tells WDYTYA?Magazine. "All the stories are about real people and could easily have been your relative or a next-door neighbour."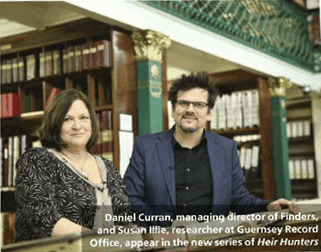 For those who haven't seen the programme, the job of the probate researchers featured in the series is essentially to find living heirs who are entitled to receive an inheritance from someone who have died either without leaving a will or where a beneficiary can't be traced.
According to Matthew, it's a competitive business. "The Bona Vacantia list (published by the Treasury, which ultimately takes assets if they're not claimed) of unclaimed estates used to be published once a week and companies previously had to go to record offices to find connections, solving a case could take days," he says.
"The list is now published daily and, using online resources, an heir may be found within hours-so more people are trying to solve them so the business have become very fast-paced."
Despite these commercial pressures, Matthew says those who work in the business typically "have a natural curiosity of history". They're also knowledgeable. "You can't look at census records and birth and death certificates all day long without learning a thing or two about the past," he adds. "Their instinct for family history often leads them to things like military shipping records that can often solve a family mystery or reveal long-lost family members."
As to the specific stories featured in the new series, which will feature the show's 200th episode, Matthew says he especially enjoyed making a programme that took the team to Guernsey. Without giving too much away, it's a story that begins with families torn apart by conflict, and concludes with reunited relatives and a niece being able to piece together missing pieces of her family tree. "Genealogical searches re still quite antiquated there by mainland standards-lots of fabulous old record books and clues gleaned from local conversations where everyone knows everyone," says Matthew. "It was great to tell some Second World War history from this island's perspective, too."
original story features in WDYTYA Magazine, by Jonathan Wright