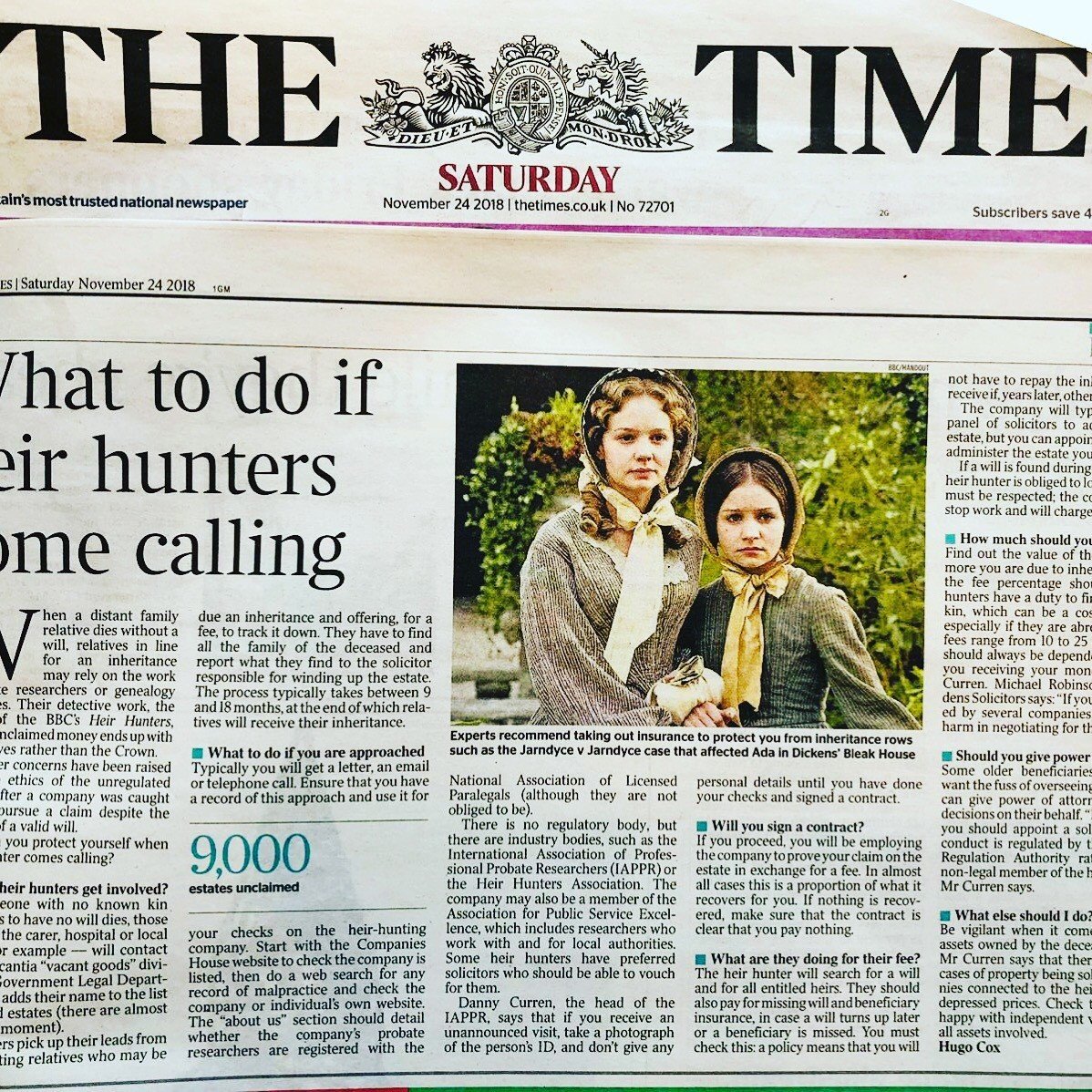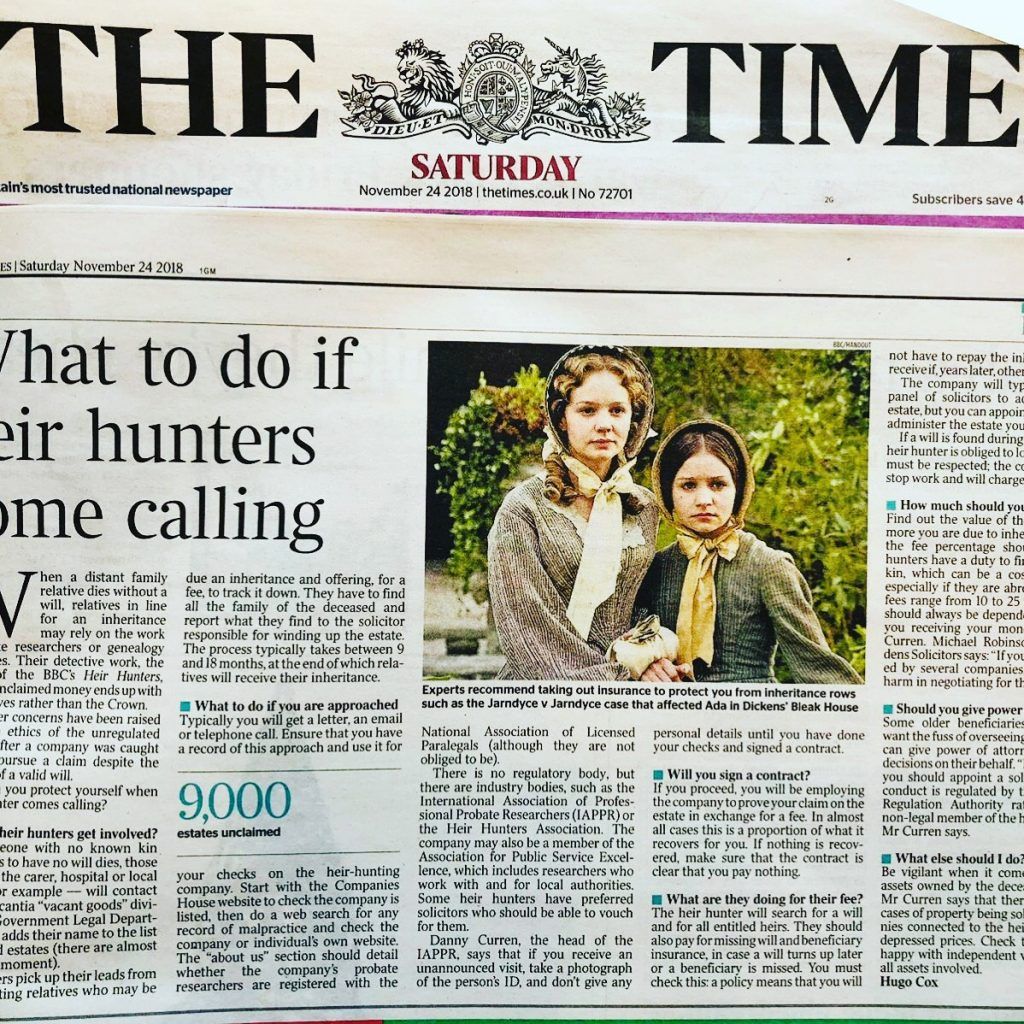 When a distant family relative dies without a will, relatives in line for an inheritance may rely on the work of probate researchers or genealogy companies. Their detective work, the subject of the BBC's Heir Hunters, ensures unclaimed money ends up with the relatives rather than the Crown.
However concerns have been raised about the ethics of the unregulated industry after a company was caught trying to pursue a claim despite the existence of a valid will.
How can you protect yourself when an heir hunter comes calling?
How do heir hunters get involved?
When someone with no known kin who appears to have no will dies, those involved — the carer, hospital or local authority, for example — will contact the Bona Vacantia "vacant goods" division of the Government Legal Department, which adds their name to the list of unclaimed estates (there are almost 9,000 at the moment).
Heir hunters pick up their leads from this list, locating relatives who may be due an inheritance and offering, for a fee, to track it down. They have to find all the family of the deceased and report what they find to the solicitor responsible for winding up the estate. The process typically takes between 9 and 18 months, at the end of which relatives will receive their inheritance.
What to do if you are approached
Typically you will get a letter, an email or telephone call. Ensure that you have a record of this approach and use it for your checks on the heir-hunting company. Start with the Companies House website to check the company is listed, then do a web search for any record of malpractice and check the company or individual's own website. The "about us" section should detail whether the company's probate researchers are registered with the National Association of Licensed Paralegals (although they are not obliged to be).
There is no regulatory body, but there are industry bodies, such as the International Association of Professional Probate Researchers (IAPPR) or the Heir Hunters Association. The company may also be a member of the Association for Public Service Excellence, which includes researchers who work with and for local authorities. Some heir hunters have preferred solicitors who should be able to vouch for them.
Danny Curran, the head of the IAPPR, says that if you receive an unannounced visit, take a photograph of the person's ID, and don't give any personal details until you have done your checks and signed a contract.
Will you sign a contract?
If you proceed, you will be employing the company to prove your claim on the estate in exchange for a fee. In almost all cases this is a proportion of what it recovers for you. If nothing is recovered, make sure that the contract is clear that you pay nothing.
What are they doing for their fee?
The heir hunter will search for a will and for all entitled heirs. They should also pay for missing will and beneficiary insurance, in case a will turns up later or a beneficiary is missed. You must check this: a policy means that you will not have to repay the inheritance you receive if, years later, other heirs emerge.
The company will typically offer a panel of solicitors to administer the estate, but you can appoint your own or administer the estate yourself.
If a will is found during the hunt (the heir hunter is obliged to look for one), it must be respected; the company must stop work and will charge you nothing.
How much should you pay?
Find out the value of the estate. The more you are due to inherit, the lower the fee percentage should be. Heir hunters have a duty to find all next of kin, which can be a costly business, especially if they are abroad. "Typical fees range from 10 to 25 per cent, but should always be dependent solely on you receiving your money," says Mr Curran. Michael Robinson of Ramsdens Solicitors says: "If you are contacted by several companies, there is no harm in negotiating for the best deal."
Should you give power of attorney?
Some older beneficiaries who don't want the fuss of overseeing the process, can give power of attorney to make decisions on their behalf. "In such cases you should appoint a solicitor whose conduct is regulated by the Solicitors Regulation Authority rather than a non-legal member of the heir hunters," Mr Curran says.
What else should I do?
Be vigilant when it comes to selling assets owned by the deceased person. Mr Curran says that there have been cases of property being sold to companies connected to the heir hunter for depressed prices. Check that you are happy with independent valuations of all assets involved.
Link to the article.