It is 1918, and on the eleventh hour of the eleventh day of the eleventh month, it is declared that Germany has signed the armistice, and thus ends one of the bloodiest battles in human history. 100 years on, we fall silent to remember the people that fought, that were wounded, and that never made it home.
This week, the team at Finders International shared their ancestor's experiences of the world at war. Our Public Sector Development Manager, David Lockwood, reminds us that while the legal age to join the armed services overseas was nineteen, thousands of boys lied about their age to enlist, his own grandfather doing just that to join the Royal Flying Corps.
Case Manager, Hayley MacNeill's great-grandfather, James McNeill, was a spirit salesman and pub manager in Glasgow before entering the army (2nd Battalion, Scots Guards). He served in France from 1917-1918, returning home in 1919. Managing Director, Danny Curran's great-grandfather, Corporal Albert Edward Crust (13th Battalion, Rife Brigade) was sadly among those killed in 1917 and Case Manager, Holly O'Brien's, great-grandfather, Patrick Brien, was a private (1st Battalion, Irish Guards) whose nickname was 'Forty' as he was the 40th person to join his regiment from around his hometown in Jerpoint, Thomastown in Kilkenny. He was shot during the Battle of the Somme in July 1916, and sent home to Ireland but later returned to the Front, while Assistant Case Manager, Alice Cadman, tells us of how her great-great uncle, Arthur Percy Dorey, was killed in the Battle of the Somme at just nineteen-years-old.
But it was not the 'war to end all wars' as the writer H. G. Wells, who coined the term, had hoped. The Second World War brought more destruction and devastation than the first. Alice's great-grandfather, Alfred Cadman, died in 1942 serving in the Royal Navy and Danny's grandfather, George William Crust was a Sergeant Major. Senior Case Manager, David Moakes' grandfather, Guardsman Ronald Johnson was in the 5th Battalion, Coldstream Guards, Marketing and PR Manager, Kirsty How's grandfather, Harold How, was a foot soldier in the army, and Lucianna Ravasio, our Irish case manager, recalls how she had several relatives who served in WW2. Her grandfather: John H Ravasio (Navy), her great-uncle: Julius A Ravasio (Marine Corps) and her great-uncle: Bernard A Ravasio, a private in the army who died in 1945 and was buried in the Netherlands.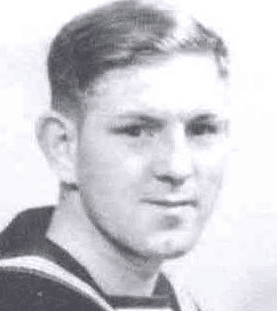 Senior General Manager, James Empson, and Management and Marketing Assistant, Olivia Empson, remember their grandfather, William Empson (pictured above). Known as 'Poopdeck Pappy', he served on HMS Ajax and was a veteran of the Battle of the River Plate, the first major naval battle of WW2. The street name 'Empson Court' in Ajax, Canada, is named after him.
Receptionist, Sherelle Johnson, remembers her grandfather who came over from Sierra Leone to fight for the British. Astonishingly, his name, Mohammed Ali, was not accepted by the British Army and they changed his name to John Johnson. Assistant Case Manager, Ollie Jameson, visited his great-grandfather's grave in 2011 with his family.  Corporal Joseph Jameson of the Royal Inniskilling Fusiliers was killed in 1918 and buried in Harlebeke, Belgium.
Intern, Amelia Brackley's grandfathers, Leslie Brackley and Henry Taylor were both Chief Petty Officers of the Royal Navy and Royal Marines respectively, both surviving WW2, and Assistant Case Manager, James Booth, recalls how his grandfather, William Booth, served as a tank driver in the Canadian Army.
International Asset Services Manager, Louise Levene, had two grandfathers in WW2; one that survived horrendous prisoner of war conditions in Borneo, and another that was a dental surgeon who worked under Archie McIndoe as part of the famous Guinea Pig Club – the Maxillo-Facial unit for servicemen who returned from the war with terrible injuries.
While it was deemed unsuitable for women to be fighting on the front line, it is hugely important to remember their significant roles in the World Wars, too. James' grandmother, Isabel Dunning, worked at Bletchley Park as a code breaker, and Louise highlighted amazing women such as: Noor Inayat Khan, a British secret agent that survived longer than any other radio operator in lethal, enemy-controlled France, Nancy Wake who commanded a 7,500 strong resistance group despite the 5 million-franc reward to turn her over to the Gestapo, and all the thousands of women that joined the armed forces.
All these men and women showed incredible strength and bravery in a period of time we can barely begin to imagine. As we mark the centenary this Sunday, Finders International will remember them.